About Inga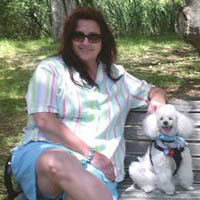 My life started out in Stuttgart, Germany were I was born. Raised by a blue-collar family, I was blessed to be surrounded by a large extended family. From my father's side it was the family from Hungary and from my mother's side the family from Poland. Being born 10 years after the ending of WWII, this huge family had many war stories to share and I experienced the aftermath of it first hand.
Traditionally, I was raised in the Roman Catholic church and enjoyed visiting Sunday masses with my beloved grandmother, Hermine. After her passing and being at the age of going to business school, I abandoned the church and concentrated on my carrier. While working at Mercedes-Benz, I additionally attended business school two times per week and graduated in 1973 as office clerk with stenography. The following year, I went for another year to a private night school in Stuttgart and graduated in 1974 with a diploma as executive secretary. The reward was an interesting job as executive secretary dealing with Mercedes-Benz companies all over the world.
Several years later, I decided to again visit night school and graduated two years later with a degree in business. This helped me to have another challenging job in the Project Controlling Department where I planned times, budgets and capacities to build trucks in the 5 to 8years in Spain.
After my first marriage dissolved without children, I married a second time. My second husband was an American Citizen living and working in Stuttgart. Our marriage was blessed with two beautiful children whom we adopted from Romania.
In the year 1998, my husband got very homesick and was lucky to be transferred through his company back to the United States to Raleigh, North Carolina. And here is were my second life started out. Immediately, I fell in love with the country and the wonderful people. The beginning was challenging because I couldn't speak the English language. Here, the help of the American people, hands on practice in living the American life and attending Lifelong Education at the NC State University helped me to improve my language skills.
Unfortunately, health issues interrupted my goal of studying psychology at North Carolina State University and I started to dig deeper into the world of spirit, bible study, metaphysics, etc.
In my first two years of living in Raleigh, I also wanted to use my time to start and improve my artistic talent.In searching for the perfect surrounding, I discovered in the "Leisure Ledger" of the City of Raleigh the "Open Studio" held each Monday morning held at the Pullen Park Arts Center. Since this time, I have been a loyal painter there, formed fabulous friendships with my fellow painters and enjoyed many, many years of creating beautiful paintings. Additionally, I went to advanced painting courses held by Mary-Anne Jenkins, Lesley Pruneau and Larry Dean at the Sertoma Park. During times of health challenges, I continued to paint at my home.
A sudden and unexpected divorce interrupted my life and after living several years in Morrisville and Cary, I moved in 2015 back to Raleigh living there with my beloved, elderly toy-poodle "Snowball".
So far I have created more than one hundred paintings and just published my first book.